Sol3 Mio | Back to Basics
SATURDAY 9 MARCH
CLICK HERE FOR PREFERRED SEATED TICKETS
CLICK HERE FOR GRASS TERRACE ADULT TICKETS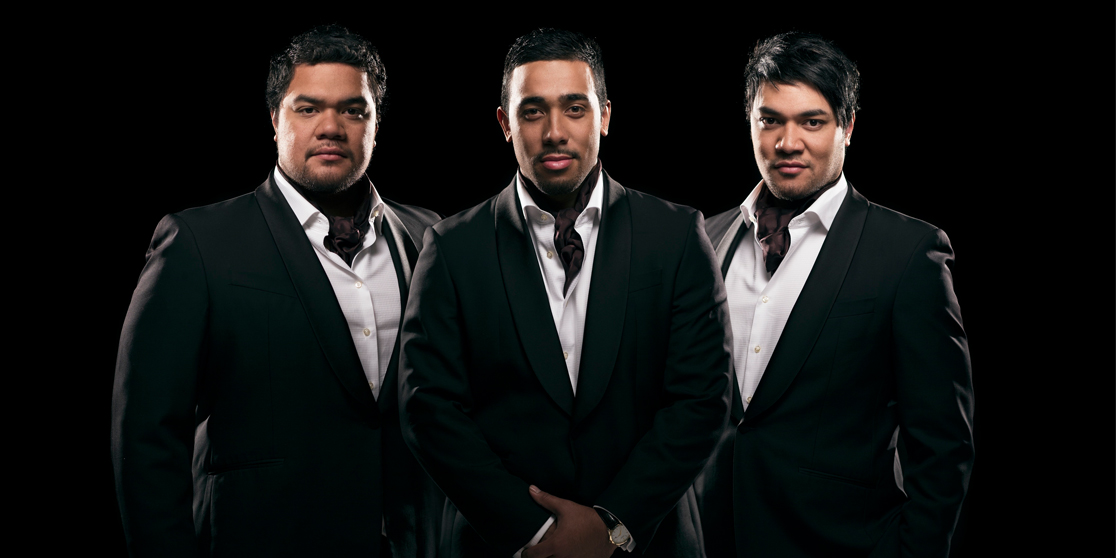 SOL3 MIO | BACK TO BASICS
Sol3 Mio fans rejoice! New Zealand's favourite musical trio are home for the holidays and are delighted to announce a very special concert tour across the North Island this March. Stopping in at Black Barn Amphitheatre, their sole outdoor show of the tour, on Saturday 9 March.
This will be Sol3 Mio in their most intimate and purest form - three voices and a piano - with a brand new repertoire of songs and anecdotes from their adventures around the globe over the past 12 months.
In this tour, Sol3 Mio take a step back from their recent outdoor shows to reconnect with smaller audiences at concert halls and theatres, sharing stories and music from their experiences across the globe, up close and personal.
"We've missed being able to see everyone's faces and communicate directly with our audiences during performances," Sol3 Mio say. "So we're looking forward to doing that in these shows, as well as meeting everyone for meet and greets and signings after the shows."
While brothers Pene and Amitai Pati, and Moses Mackay have been focusing on their solo opera and pop careers for the past year, their Christmas Album A VERY M3RRY CHRISTMAS hit #2 in the New Zealand Album charts, after hitting #1 on release a year earlier. With three straight #1 albums, a slew of Vodafone New Zealand Music Awards and record-breaking tours, Sol3 Mio are a musical force to be reckoned with. This tour is one not to be missed, before the three once again head away to progress their individual careers.
Tickets for this unique and intimate tour will undoubtedly sell fast, so we urge fans to make sure they're ready when tickets go on sale at 9am on Tuesday 29 January.
---
TICKET PRICING
General Admission Grass Terrace Seating | $80.00 each
These tickets are for the grass terraces from Terrace 3 to 12, no seating is provided. You are welcome to bring picnic rugs, pillows and low sand chairs.
Black Barn Market Pre-Concert Bubbles & Canapés | $75.00 each
To make the most of this fantastic concert we are offering a limited pre-concert cocktail event in Growers Market. Enjoy canapés from our chefs and Black Barn wine, as you relax before for the concert. This package includes a complimentary glass of bubbles on arrival, canapés and premier parking in the bistro carpark. A cash bar will operate with wine and beer available. Canapés will start promptly from 6.00pm at the market and finish in time for you to make your way to your seats before the concert at 7.30pm. ( Bubbles & Canapés price does not include concert ticket)


Preferred Terrace Seating | $95.00 each
These are numbered seated tickets for the lower front flat gallery, also Terraces 1 and 2 of the amphitheatre. (Terrace 1 on sale prior to Terrace 2) You will find the number in the top section of your ticket. They are a reserved area in the heart of the amphitheatre where a combination of views and site lines are at their best. Purchasing a preferred seat means you don't have to arrive too early to get one of the best seats in the house.
A word on preferred terrace seating: Each of the two seated terraces will only have two rows of seats. Seats will be spaced so that the back row still has excellent sight-lines. The seats will be allocated on a 'first in, best seat' scenario. (Tickets Limited)


SOL3 MIO BUS SERVICES
Leave your car at home - get to and from the Black Barn Amphitheatre safely with Nimons Bus Company.
Choose from one of two lines.
Please be at the designated stops 10 minutes prior to the departure time stipulated times below:
Note you must purchase a separate bus ticket to your concert ticket.
NAPIER BUS - $25 return
15:55 Taradale Clock
16:15 Gin Trap
16:30 East Pier
16:50 Napier Isite
17:15 Clive BP
17:30 Black Barn

HASTINGS BUS - $15 return
16:45 BP Stortford
17:00 Cenotaph (Russell Street)
17:20 Havelock Isite
17:30 Black Barn


GENERAL INFORMATION
- Gates Open: 5.30PM
- Concert Starts: 7.30PM
- Concert Finishes: 9.30PM approx
All ages concert
Fully licensed
Food items will be available from venue food stalls around the venue. You are welcome to bring a small picnic into the concert but no large hampers or chillers are allowed, space is limited in the venue.
NO LARGE HAMPERS OR CHILLERS are to be taken into the venue as space is limited
Wine and beer will be available for purchase however our license stipulates that no additional alcohol or soft drinks be brought in to the venue itself. Sealed bottled water glass or plastic bottles is allowed.
Wine and cider will be served in plastic glasses, beer is served in cans.
Venues are required by law to refuse entry to anyone who is intoxicated.
Alcohol will not be served to anyone who is intoxicated. Alcohol will not be served to minors.
No ID - No Service - No Exceptions *Wine must be consumed from a glass.
The Concert will continue rain or shine. Please check the forecast and be prepared accordingly.


BOOKING
IMPORTANT: Black Barn strongly objects to the use of unofficial ticket sellers who mislead customers into purchasing invalid tickets which are sold at inflated prices and can lead to non-admittance or ejection from the Event. DO NOT BUY TICKETS TO BLACK BARN EVENTS FROM VIAGOGO.
Please note BNZ Globalplus Visa and MasterCard customers may experience problems.
As a condition of sale, there are no refunds, exchanges or cancellations once the booking is complete except in accordance with applicable laws in the region of purchase. Please refer to Black Barn Vineyards Terms of Sale for further information or contact us for further assistance.
Booking fees apply