The Proclaimers
SUNDAY 12 MAY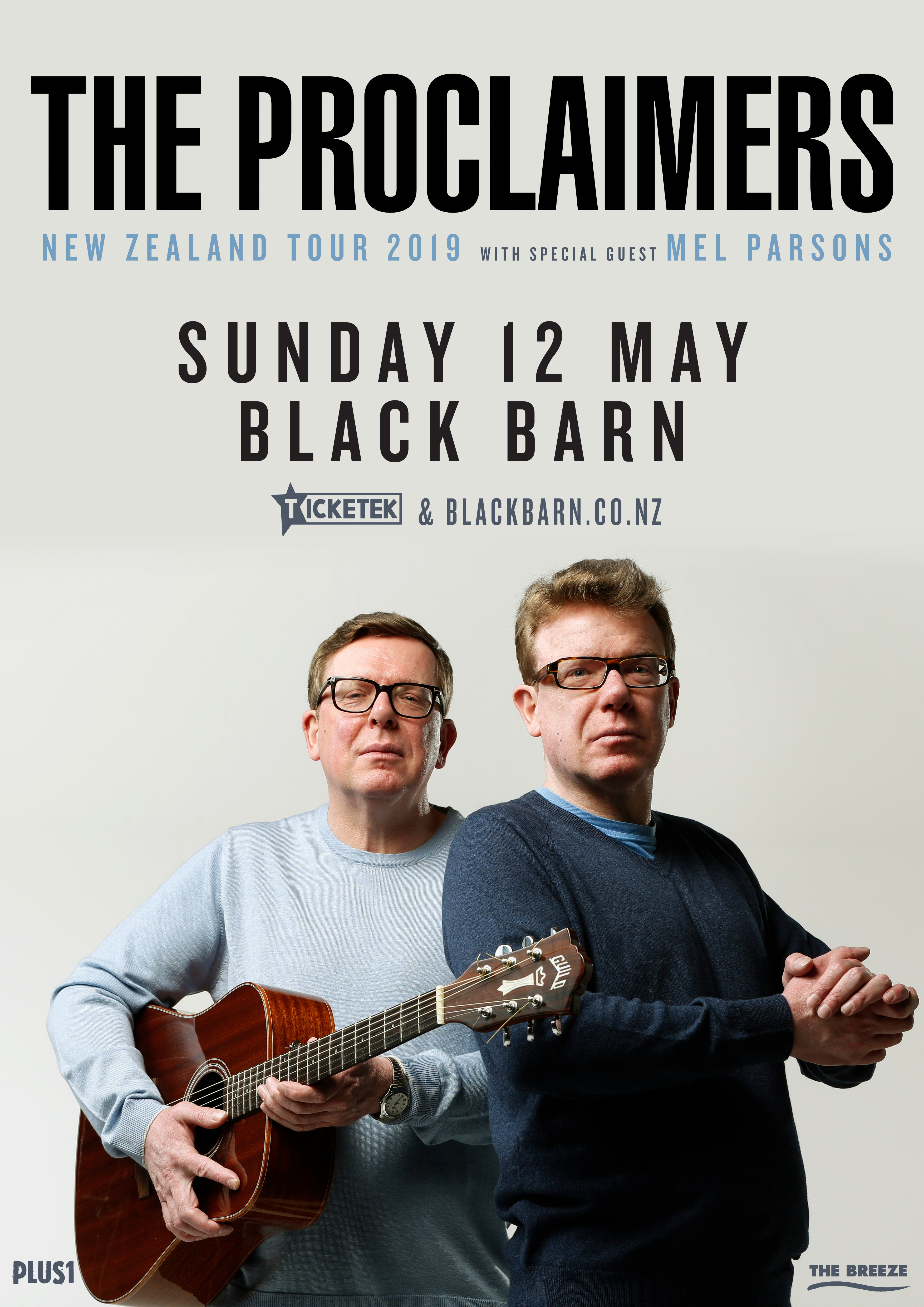 THE PROCLAIMERS
Twins Craig and Charlie Reid and their talented band will perform eight shows nationwide in May 2019 – including Black Barn Amphitheatre on Sunday 12 May 2019.
Fans can look forward to hits like I'm Gonna Be (500 Miles), I'm On My Way, Sunshine on Leith, Letter From America and King Of The Road; as well as material from their acclaimed new album Angry Cyclist.
New Zealand singer-songwriter Mel Parsons will open all eight shows. Mel is currently celebrating the release of her new single I Got The Lonely, recorded in the US with award-winning producer Mitchell Froom (Crowded House, Elvis Costello, Paul McCartney).
The Proclaimers are currently in the middle of a 60-date tour through Canada and UK in support of the new album, before heading down under as part of more tour dates in 2019.
Strikingly individual, The Proclaimers' Reid twins have enjoyed huge success across the globe as the emotional honesty, political fire, wit and sing-along raucousness.
They have uniquely carved out a niche for themselves in the netherworld where pop, folk, new wave and punk collide. In the process, they have enjoyed Gold and Platinum records in UK, USA, Canada, Australia and New Zealand; and their strong loyal following continues to generate Sold Out signs at venues worldwide.
They have even inspired a musical, play and film: Sunshine on Leith was a hit independent film of 2013, and its namesake musical this year enjoyed a fourth UK run. 2018 also marks the 30th anniversary of the Sunshine On Leith album.
The Proclaimers' famous fans are many and varied. Actor David Tennant (Dr Who) succinctly said "They write the most spectacular songs, big hearted, uncynical, passionate songs".
Born in Leith in 1962, Craig and Charlie Reid grew up in Edinburgh, Cornwall and Auchtermuchty in Fife. At home, they listened to early rock 'n' roll and country greats such as Jerry Lee Lewis, Merle Haggard and Hank Williams.
At school they played in punk bands and formed The Proclaimers in 1983. With a fervent live following growing in Scotland, particularly in Inverness where they performed regularly, their first big break came late in 1986 when they were invited to tour with The Housemartins.
The New Zealand tour is proudly presented by Plus1 and The Breeze.
---


BUS TRANSPORT
Bus transportation organised through Nimon & Sons, from $13-25 return. Released in November.
TICKET PRICES
General Admission (all ages): $99 + BF ( From 1st December 2018)
CONCERT TIMES
Gates Open: 5.00pm approx
GENERAL INFORMATION
All ages concert
Fully licensed
There is no allocated seating. No seating is provided. You are welcome to bring rugs, pillows, bean bags and low sand chairs
Food items will be available from venue food stalls around the venue.
NO LARGE HAMPERS OR CHILLERS are to be taken into the venue as space is limited.
Wine and beer will be available for purchase however our license stipulates that no additional alcohol or soft drinks be brought in to the venue itself. Sealed bottled water is allowed.
Venues are required by law to refuse entry to anyone who is intoxicated.
Alcohol will not be served to anyone who is intoxicated. Alcohol will not be served to minors.
No ID - No Service - No Exceptions *Wine must be consumed from a glass.
The Concert will continue rain or shine. Please check the forecast and be prepared accordingly.

BOOKING
IMPORTANT: Black Barn strongly objects to the use of unofficial ticket sellers who mislead customers into purchasing invalid tickets which are sold at inflated prices and can lead to non-admittance or ejection from the Event. DO NOT BUY TICKETS TO BLACK BARN EVENTS FROM VIAGOGO.
Please note BNZ Globalplus Visa and MasterCard customers may experience problems.
As a condition of sale, there are no refunds, exchanges or cancellations once the booking is complete except in accordance with applicable laws in the region of purchase. Please refer to Black Barn Vineyards Terms of Sale for further information or contact us for further assistance.
Service fees apply