Fat Freddy's Drop - Fri 31 Jan
FRIDAY 31 JANUARY
.
TICKETS ON SALE THURSDAY 19 SEPTEMBER FROM MIDDAY
---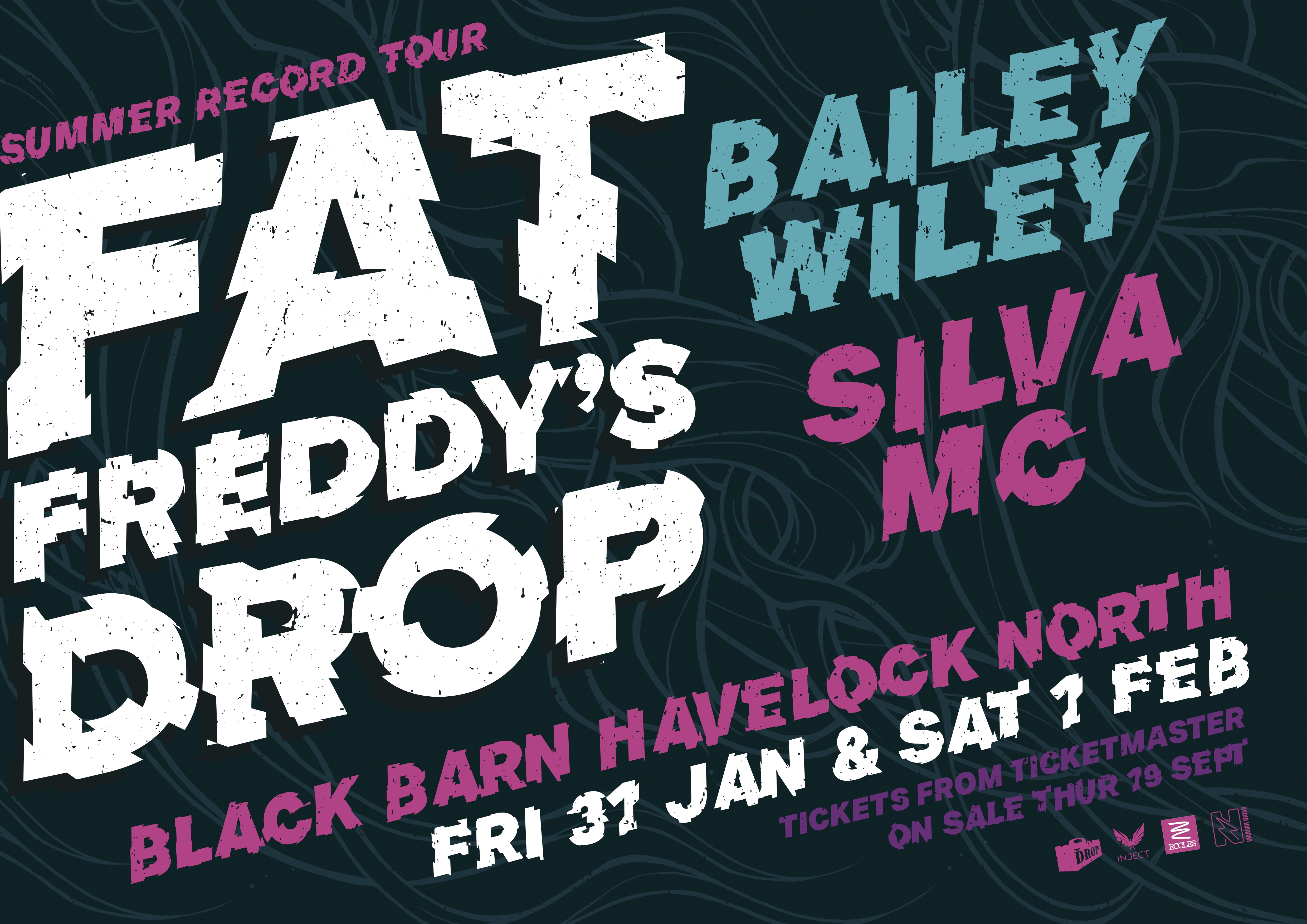 CONCERT TIMES
Gates Open: 5.00pm approx
Concert Finishes: 10.30pm approx
GENERAL INFORMATION
All ages concert
Fully licensed
There is no allocated seating. No seating is provided. You are welcome to bring rugs, pillows, bean bags and low sand chairs.
Food items will be available from venue food stalls around the venue.
NO LARGE HAMPERS OR CHILLERS are to be taken into the venue as space is limited.
Wine and beer will be available for purchase however our license stipulates that no additional alcohol or soft drinks be brought in to the venue itself. Sealed bottled water is allowed.
Venues are required by law to refuse entry to anyone who is intoxicated.
Alcohol will not be served to anyone who is intoxicated. Alcohol will not be served to minors.
No ID - No Service - No Exceptions *Wine must be consumed from a glass.
The Concert will continue rain or shine. Please check the forecast and be prepared accordingly.
REDUCE, REUSE & RECYCLE
At Black Barn, we don't take our natural wonderland for granted. We are committed to minimising waste, conserving and reusing our resources ultimately working towards Zero Waste Events. We need your help to do this, assist our Waste Minimisation Hero's at stations around the Amphitheatre to separate your waste correctly. Did you also know you can reuse our BB plastic wine cups? Take them home for the beach or picnics. Further information soon.

BOOKING
IMPORTANT: Black Barn strongly objects to the use of unofficial ticket sellers who mislead customers into purchasing invalid tickets which are sold at inflated prices and can lead to non-admittance or ejection from the Event. DO NOT BUY TICKETS TO BLACK BARN EVENTS FROM VIAGOGO.
Please note BNZ Globalplus Visa and MasterCard customers may experience problems.
As a condition of sale, there are no refunds, exchanges or cancellations once the booking is complete except in accordance with applicable laws in the region of purchase. Please refer to Black Barn Vineyards Terms of Sale for further information or contact us for further assistance.
Service fees apply