black barn luxury Retreats
There are two ways to get started. If you simply want to have a look at different retreats, just select from the column on the left. Alternatively, click your arrival date, number of nights and number of guests, then click search and we'll automatically show the retreats available for your dates and numbers as well as the total price.
about our retreats
Black Barn Vineyards in Hawkes Bay, New Zealand offers fourteen unique properties for nightly vaction rental. Each is fully self contained and exclusively yours for the duration of your stay.
Each is selected for its prime location, unique character and original style. They are all luxuriously appointed to reflect their individual character with the very best in furnishings, bedding, fabrics, kitchenware and amenities. From an eight bedroom luxury retreat to a two bedroom turn-of-the-century cottage in the heart of the vineyard, for a truly unique holiday experience, these properties are recognised as amongst the very best available in New Zealand.
As we do not wholesale or advertise our properties all bookings are directly with the winery. Therefore when planning your luxury vaction you will not find us in travel shops or discount brochures and 80% of our guests are either repeat visitors or personal recommendations through word of mouth. So which-ever one you choose, you can be assured of a discrete, private, luxurious stay.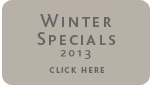 Please note the Winter Special is not available on New Zealand public holidays.